"We are a society founded upon service."
—Eugenia Washington, Founding Member, NSDAR
The DAR continues to be a service-oriented society. Members honor the service of their Revolutionary War Patriots through service to their own communities, states, and nation. The DAR's primary areas of focus are historic preservation, education, and patriotism, and most, if not all, DAR activities support one or all of these areas.
Because of the varied aspects of the DAR's work, DAR chapters accomplish their objectives through a system of committees. Some are specific to an area of focus, while others are more administrative in nature.
Allowing individual members to utilize their talents, passions, and strengths, the committee system allows for member involvement and provides for comradery and cooperation among members. Each committee has a chairperson who works with the chapter's executive board to bring the goals and ideas of the chapter, state, and national societies to fruition.
Community Service
The NSDAR Service to America initiative encourages members to become involved in service to their communities to discover the rewards of volunteerism, to demonstrate the positive volunteer opportunities associated with DAR members to others, and to help make our local communities a better place. Members are challenged to discover the impact they make in their local communities by performing all types of community service. DAR members give back to their communities in appreciation for the nation they love!
Centennial State Chapter members spend thousands of hours each year, both individually and collectively, serving in various ways to make a difference in their communities.
Some of the ways this chapter serves our community include, but are not limited to, the following:
Volunteering in local churches, schools, and hospitals
Supporting first responders
Supporting and recognizing our nation's veterans
Spending hours preserving historic records through transcription and digitization
Supporting community groups and events such as local arts groups, literacy programs, and more
Volunteering at local food banks and shelters
Participating in food drives, clothing drives, and similar endeavors to assist those in need
Historic Preservation
Centennial State Chapter participates in a variety of projects that support historic preservation, which is crucial to saving our history for future generations.
Chapter Markers
Over the years, several historic sites in the area have been marked by the chapter and are maintained in order to preserve the history of the area for future generations.
Fort St. Vrain
Southwest of Gilcrest off Road 40 is a granite pillar set into a concrete platform. This monument marks the location of Fort St. Vrain, established by Ceran St. Vrain in 1837 as a fur trading post. The fort was originally known as Fort Lookout, then Fort George, and finally Fort St. Vrain.
John C. Fremont used the fort as both a staging area and a replenishment junction for his expeditions.
In 1952, the land deed of Fort St. Vrain was presented to the Weld County Commissioners, who guaranteed the upkeep of the land. This is the first historic site marked by the chapter in 1911.
Overland Stage and Express Marker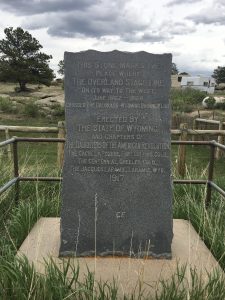 On the east side of Highway 287 at the Colorado-Wyoming border is a granite marker on a concrete base. This marks the location of the Overland Stage Line where it crossed the state line.
A branch of the Overland Stage Line ran from Denver to Salt Lake City and other points west. Locations along the route included Laporte, Virginia Dale, North Platte, Bridger's Pass, and Fort Bridger. The use of this branch was discontinued in 1868 as railroad travel became more common.
This site was marked by the state of Wyoming and Centennial State Chapter, NSDAR, Greeley; Cache La Poudre Chapter, NSDAR, Fort Collins; and Jacques Chapter, NSDAR, Laramie, Wyyoming, on July 4, 1917.
USS Maine Memorial Tablet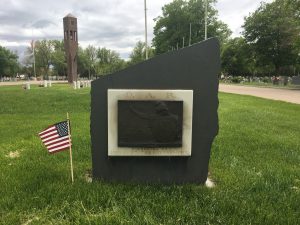 In 1898, the USS Maine mysteriously exploded in the harbor at Havana, Cuba. Following the Spanish-American War, parts of the ship were cut out, marked with a memoriam to the ship, and sent to organizations around the country. Centennial State Chapter, NSDAR, received one of these plaques.
Originally presented to the public library by the chapter, the plaque later went to the Greeley Museum, then back to the library, then to a local hardware store. The store displayed it until a more suitable place could be found. Today, the plaque is permanently displayed in Soldier's Field at Linn Grove Cemetery, Greeley.
The plaque was presented to Centennial State Chapter in 1916 and was unveiled at City Library in 1917.
Meeker Museum Bench
Located at 1324 9th Avenue in Greeley, the Meeker Museum was once the home of Nathan Meeker and his family. Today, the home hosts visitors who wish to learn more about the Meeker family and the founding of Greeley. It is listed as a nationally recognized historic house.
Nathan Meeker was agricultural editor of the New York Tribune when he visited Colorado in 1869. He saw the area along the eastern slope of the Rockies as a fine place for home sites with available water sources. New York Tribune editor Horace Greeley agreed with Meeker, and Union Colony was born. Of the eventual 500 members of the colony, 50 arrived in May 1870 to begin work to establish their homes and farms. The town experienced rapid growth and was incorporated in 1871. The town's name was changed to Greeley, after the newspaper editor who shared the vision of a community with Nathan Meeker.
Just outside the home in the front yard, Centennial State Chapter placed a bench with a marker on the front. The chapter donated the bench in 1976.
Elbridge Gerry and Family Grave Site Marker
The final resting place of Elbridge Gerry and his family is near Kersey, Colorado. This family plot contains four original gravestones and two modern ones. The original gravestones display severe erosion and are difficult to read. The modern stones were placed in memory of the family in 1934 and in 1989. This site is on private property and requires permission to access. The fence surrounding the site was donated by Centennial State Chapter in 1981.
Steward J. Adams Memorial
The Steward J. Adams Memorial is at the west end of Crow Valley Park, off Road 77 in Briggsdale, Colorado. "The education site is dedicated to the memory of Steward J. Adams District Range, Pawnee National Grasslands, 1973-1979. He and the Daughters of the American Revolution worked to develop this site for the benefit of all Grasslands visitors." The plaque was placed by Centennial State Chapter in conjunction with the U.S. Forest Service in 1981.
Gertrude Kellogg Evans Memorial Grove
The Gertrude Kellogg Evans Memorial Grove is at the west end of Crow Valley Park, off Road 77 in Briggsdale, Colorado. Gertrude Kellogg Evans was Colorado State Regent 1975-1977. Her Bicentennial project initiated the development of the Steward J. Adams Memorial Education site in cooperation with the U.S. Department of Agriculture. The plaque was placed by Centennial State Chapter in 1981.
Charles Dixon Grave Site
At 1150 North 23rd Avenue in Greeley, there is a chain-link fence near the road's edge with a pile of cobblestones within its boundaries. It contains the remains of Charles Dixon who was born on July 23, 1879, and died just over a month later. He was the first white child to die in Weld County. His brother Horace Greeley Meeker Cameron Dixon was the first child born in Weld County.
The grave is on private property on which a business is now located. It is can be viewed from the side of the road or permission may be asked at the business office to enter the property to view the site. Centennial State Chapter marked this gravesite in 1989 and continues to maintain the site.
#3 Ditch Marker, Greeley
A bridge spans 14th Avenue at 13th Street in Greeley. The ditch underneath is a physical reminder of the ingenuity and accomplishments of the early settlers in the Greeley area. The marker is on the southeast end of the bridge.
Early members of Union Colony constructed Ditch #3, which runs 9 miles from the Cache la Poudre River southeast to the South Platte River. The water from this ditch was to supply houses in the colony (now Greeley) and surrounding farmland. Ditch #3 is now known as Union Colony #3 Canal and is owned by the Greeley Irrigation Company. It is still in use.
This site was marked by Centennial State Chapter in 1990.
World War II German Prisoner of War Camp 202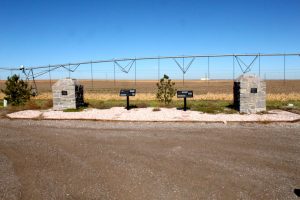 West of Greeley (on the north side of US-34 Business Route at Promontory Parkway), two stone pillars stand side by side, the only physical reminder of what was once POW Camp 202. During World War II, German and Austrian prisoners of war were held at this camp between 1943 and 1946. Most of the prisoners held there had been captured by the Allies during the North African campaign or the Normandy Invasion. The two stone pillars once were the entry gate to Camp 202, which was originally just west of their current location.
The 320-acre camp held approximately 4,000 prisoners and 200 staff members and guards. Each day, prisoners were transported to area farms where they worked all day and returned to the camp at night.
The camp was eventually closed and the POWs returned to Germany. Some returned to the area with their families after the war, to visit and show their families where they had been held. The camp's buildings were sold at public auction. The American Legion Post building in Windsor was once the officer's club at the camp. Motel units at the intersection of 23rd Avenue and 10th Street in Greeley were once barracks.
These pillars were marked as a historic site by Centennial State Chapter in 1993.
Education
The DAR is passionate about educating America's youth and supports and participates in a variety of different programs, contests, and awards to help further this goal. Our chapter enjoys serving schools in Greeley and the surrounding communities with numerous projects aimed at promoting education.
Constitution Week
Constitution Week is the commemoration of America's most important document. It is celebrated annually during the week of September 17–23. The aims of the Constitution Week celebration are to:
Emphasize citizens' responsibilities for protecting and defending the Constitution
Inform people that the Constitution is the basis for America's great heritage and the foundation for our way of life
Encourage the study of historical events which led to the framing of the Constitution in September 1787
Centennial State Chapter celebrates Constitution Week in several ways that both educate and inform the public and provide materials to teachers and students in area schools. Activities include proclamations from local mayors and displays at libraries. Constitution booklets are placed beside the displays for the public to take.
More information can be found on the Constitution Week webpage of the National DAR or by contacting our chapter regent using the Contact Us page.
DAR Good Citizens Contest
The DAR Good Citizens program recognizes and rewards outstanding high school seniors in the community. The program and scholarship contest is intended to encourage and reward the qualities of good citizenship (dependability, service, leadership, and patriotism in homes, schools, and communities). Winning students who demonstrate these qualities to an outstanding degree are selected by their teachers and peers. The program is open to all high school seniors enrolled in accredited public or private secondary schools who are in good standing with their state boards of education. Only one student per year may be honored as a school's DAR Good Citizen.
Centennial State Chapter, NSDAR, sponsors this opportunity at area high schools. The DAR Good Citizen from each school may enter the DAR Good Citizen Essay Contest. Three independent judges score the essays. The student with the highest score becomes the chapter's DAR Good Citizen winner. That student then moves to the state level of competition. Centennial State Chapter has sponsored several state-level DAR Good Citizen Award winners. All local DAR Good Citizens are recognized at the chapter's annual Student and Community Awards Recognition program.
For more information about this contest, contact our chapter regent on the Contact Us page.
Community Classroom Committee
This community is among the newest for the DAR. Beginning in July 2016, chapters have been encouraged to adopt a classroom or school to provide time and/or financial support. If you are an administrator or teacher in the Greeley area or surrounding communities and would like to explore how we can help you, contact our chapter regent on the Contact Us page.
Patriotism
Centennial State Chapter, NSDAR, promotes patriotism through a variety of activities and projects, including the following:
honoring U.S. veterans throughout the year
recognizing the achievements of U.S. veterans
supporting our active-duty military
attending Honor Flight send-offs
participating in Wreaths Across America
distributing U.S. flags
attending Naturalization Ceremonies
educating the public about U.S. flag etiquette and proper display
recognizing proper and patriotic U.S. Flag displays
commemorating historic and patriotic events
sponsoring ROTC, JROTC, and Youth Citizenship Awards
Veteran and Active Duty Military Assistance
DAR members are passionate about supporting our veterans and active-duty military and we do so in a variety of ways. Some of the ways this chapter supports veterans are described below.
Support for Active Duty Military
Care packages are sent to deployed men and women from our local area. Greeting cards and letters are prepared for distribution to deployed units. For one such project, Centennial State Chapter, NSDAR, sent requested items to the crew of the USS Kearsarge.
(U.S. Navy photo by Mass Communication Specialist 3rd Class Kaitlyn E. Eads/Released)
VA Hospitals and non-VA Facilities
DAR members collect needed items for our veterans at our VA hospitals, making regular trips to deliver the donated items. Centennial State Chapter collects craft items, audiobooks, and other items for the Cheyenne VA facility. Members donate dozens of cookies for the coffee cart at the VA Clinic there as well.
The United States of America Vietnam War Commemoration
Along with other DAR chapters across the nation, Centennial State Chapter is proud to partner with the Vietnam War 50th Anniversary Commemoration. Commemorative Partners serve as representatives of a grateful nation as we thank and honor a Vietnam veteran or family member. We are, in many ways, turning back the pages of history and righting a wrong for some of these veterans and families by simply saying "thank you for your service and sacrifice." Centennial State Chapter has sponsored various events in conjunction with this partnership, including a "Welcome Home Vietnam Veterans Day" program at the Weld County Veterans Memorial, a Vietnam Veterans luncheon, and promotion of Vietnam Veterans Day (March 29) on local radio stations and in local businesses. Vietnam veterans may be presented with a certificate of appreciation as well as the official Commemoration Vietnam Veterans lapel pin.
Homeless Veterans
DAR members serve homeless veterans in a variety of ways. Centennial State Chapter members collect winter outerwear (coats, hats, gloves, boots) for homeless veterans in our area. Bicycles have been donated for use by homeless veterans.
Thank You Cards for Our Veterans
DAR members distribute thank you cards to veterans during visits to VA facilities, shelters, and state facilities. Veterans displaying veteran stickers on their cars or wearing caps noting their service are thanked in person. Greeting cards honoring Veterans Day are sent by the chapter to our area VFW posts in early November. Chapter members find any occasion to thank our veterans for the tremendous sacrifice they have made for our freedom.